At our second camp in Namibia, we were told that we could see black rhinos.  This really piqued our interest because rhinos are a critically endangered species and very difficult to spot in the wild.  Seeing one is a very special experience.
To attempt it would make for a very long day – 3:30am wake up, on the road by 4am, 2 hour drive to where they live, and then get lucky enough to see one.  Quite a tall order!  But, Shelley and I decided to give it a shot.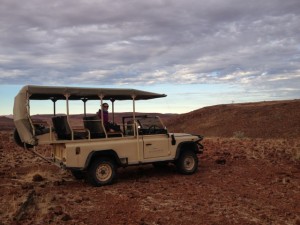 The early morning drive was long and cold, but ultimately we were rewarded.  Shelley spotted a rhino!  We couldn't get too close because of their shy nature – they typically run away from the safari vehicles.  But Shelley was able to snap several pictures of our rhino at a distance.
Mission accomplished.