Our journey from New Zealand to Namibia – 4 flights, one flight cancellation, 14 hours of layovers, about 40 hours total travel time – left us completely exhausted.  But, the excitement of finally being in Africa really helped us deal with the jetlag and our just-off-the-plane-after-40-hours-of-travel grossness.  When we arrived at our first safari camp in the Namib desert, we resisted the temptation of showers and an early bedtime and hopped into a land cruiser for our first evening game drive.
The desert adapted animals of the Namib desert aren't what you typically associate with a big game safari.  There weren't any lions or elephants in this part of Namibia.  That being said, we still saw many different kinds of animals as we drove through the desert to our evening sundown spot.  The scenery was breathtaking, and reminded me of the backpacking trips I'd taken to Big Bend National Park with my buddies back home.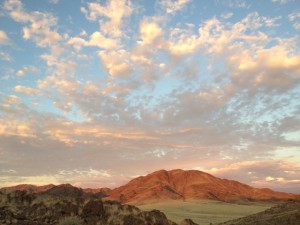 After getting back to the camp, we didn't last very long.  We grabbed showers, ate dinner as quickly as we could, and collapsed into bed.  Tomorrow we would start all over with a 5am wakeup call, and the scenery would get even better.