After a relaxing week in Ubud, we headed out to see other parts of the island.  I used my first trip to Bali as a guide (my very first trip out of the US was to Bali, back in 2001) and planned a north/south sightseeing route bisected by a short stay in the northern town of Lovina, where, from my first trip, I remembered there to be coarse, gray beaches and beautiful sunsets.
We were told by a relative that we should go see the Temple of the Fallen Moon, a famous temple just outside of Ubud that houses the largest, single-piece cast drum in the world.  So, we headed there first.  Unfortunately, the drum is hidden away in an area of the temple that you're not allowed to visit, so we couldn't see it.  But, later on our trip we would see a similar but smaller drum in the Indonesia section of Singapore's Asian Civilizations Museum.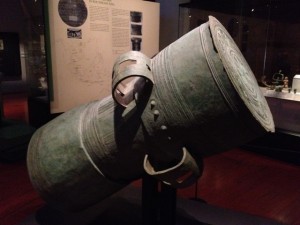 We also visited another temple, Pura Tirta Empul, where, for over 1000 years, the Balinese people have come to pray and bathe in the holy spring waters on top of which the temple was built.  It was certainly one of the most beautiful temples we saw – the spring water was crystal clear.  There were several ceremonies going on while we were there, so we didn't take many pictures so as not to be invasive.  But, here's a quick picture I snapped of one of the bathing pools.
After the temples, we continued north through Kintamani, passing Mt. Batur as we did on our bike tour, and on to Lovina.  Lovina had changed a great deal in 10 years, much like the rest of the Bali that I remembered from my previous trip.  There were many more buildings and much busier streets.  It had lost some of the magic that I had felt on my previous visit.  But, the beaches were still there, and the sunsets did not disappoint.
In Lovina we stayed at this funky, little hotel on the beach called "1000 Dreams."  The room was nice and had an outdoor bathroom, the first of these we'd encountered.  As you can see, the shower was pretty tweet, er, sweet.
Another first for us in Lovina was our introduction to the gekko.  We've seen lizards everywhere in SE Asia, but the gekkos are REALLY LOUD!  We'd never heard the sound a gekko makes until one started making noise outside our room one night and woke us up.  It was so loud it sounded like it was right inside the room with us!  The last morning we were in Lovina, we were woken up by a gekko and I was able to scramble for my iPhone just in time to capture a video that recorded his last of about 6 calls…  Now I know why they're called gekkos: it's just like it sounds!
After our stay in Lovina, we headed back to the southern part of the island.  We made stops at two places I had been on my first trip:  the waterfall at GitGit and Pura Ulun Danu Bratan.  Both of these places were not as I remembered them.  They were now much more developed, especially Pura Ulun Danu.  That temple, a beautiful one situated on the banks of Lake Bratan, was now flanked by a mini-mall and swarmed by people and tour buses.  When I visited back in 2001, my friends and I may have been the only ones there at the time.  It was unfortunate to see.  It seems like these sights are being ruined by the booming tourist economies these SE Asian countries now depend on.
Continuing south, we made a brief detour to the Jatiluwih Rice Terraces, which have been nominated as a UNESCO World Heritage Site.  It was definitely worth going out of the way a little bit to see this.  It was just beautiful.
Our final stop of the day was Pura Tanah Lot.  This temple is in a beautiful location, right out in the ocean.  I had looked forward to coming here, as this is one spot that we missed during my first trip to Bali.  Again, it was very built up and touristy (made me wish we'd gone back in 2001).  But, it was a beautiful place, and a great way to wrap up our north/south tour of the island.