I love Thai food and have been looking forward to eating the real deal in Thailand for a long, long time now. John, on the other hand, at least as long as I've known him, has believed himself not to be a fan of Thai food, so he wasn't looking forward to it quite as much as I was. But to the pleasant surprise of both of us, he's loved the food here, and we've had a great time trying all different kinds of Thai classics.
For our first lunch in Bangkok, we headed to Chote Chitr in the Old Town. It's a well-known but tiny hole-in-the-wall place, with fluorescent lighting and just five tables. We ordered the red curry with river prawns and the banana flowers salad with shrimp, chicken, and peanuts. The curry was creamy and delicious with a good kick to it (it was spicy but not "Thai spicy!"). The banana flowers salad was tart and refreshing but definitely had that strong, distinctive fish sauce flavor common to many Thai dishes.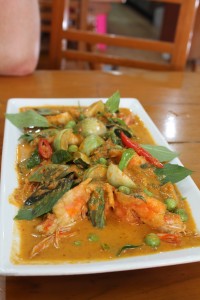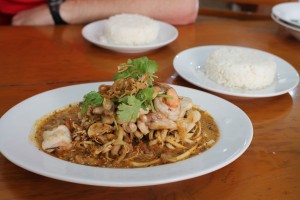 Before lunch, we'd been sweating profusely during our tour of the Grand Palace, so we rehydrated with some Thai 7-Up. We loved the glasses that the restaurant gave us for the 7-Up–it felt like a return to our childhoods and a visit to our grandmas' houses.
Later in the week we went to a fried chicken place for lunch. It was on a little alley close to the Japanese Embassy and was packed with Thai office workers. As had been recommended, we ordered a whole fried chicken, which came smothered in crispy fried garlic, along with sides of sticky rice and som tam, a spicy papaya salad made with shredded green, unripe papaya, lime juice, chillies, fish sauce, peanuts, tomatoes, green beans, and palm sugar. It's sour and sweet and spicy and salty all at once, very refreshing, and a great complement to the chicken. As you can see, John's reaction to the food was highly positive.
On our last night in Bangkok, we trekked to Chinatown for our first experience with Thai street food. Navigating the streets between the nearest subway station and the main drag in Chinatown turned out to be a lot more challenging than we'd anticipated, with conflicting directions along the way from well-intentioned and seemingly not-so-well intentioned passersby, some telling us that the street food in Chinatown was "closed" that night and others doing their best to point us on the right path. We made it in the end to a busy street lit up by neon signs and lined with food carts on both sides. The ordeal of finding our way had kind of zapped our appetites, but we had some delicious fried noodles with smoky chicken and squid and also a bowl of bright, creamy and spicy tom yum goong, a soup made with shrimp, lemongrass, chillies, galangal, mushrooms, limes, fish sauce, and coconut milk. Here are a couple of shots of the market stall where we enjoyed the soup.
Then we headed back to our hotel to pack up for Koh Samui. And in case you're curious, no, we didn't get even the slightest tummy rumble from the street food!