I know, the title is terrible, but it's fitting…
From Kampot, John and I headed north to Siem Reap, which is the jumping off point for tours of Angkor, the ancient Khmer capital and the home of Angkor Wat.  We arrived in Siem Reap on a Friday evening and looked forward to a full day of touring temples on the next day.  My sister, Anne, would be arriving to meet us on Sunday, so we planned to spend Saturday visiting some of the lesser-known temples that are outside of the main Angkor tourist circuit.  We were especially excited to visit Bang Melea, a temple that was built far from the main Angkor temples but that's believed to have been built in the 12th century by the same Khmer king that built Angkor Wat.  Unlike Angkor Wat and the other temples closer to Siem Reap, Bang Melea hasn't been restored, so it's a mass of rubble and crumbling, moss-covered stones.  We'd heard that it's usually very quiet out there, with very few tourists, so John was looking forward to feeling a bit like Indiana Jones while exploring the remains of a lost civilization.  Unluckily for us, however, our visit to Siem Reap coincided with a major, weeklong, Chinese holiday, and Bang Melea—as we later learned—is a highlight for Chinese tourists.  After an initial few minutes of peace and quiet, we ended up sharing our exploration of Bang Melea with a teeming mass of hundreds of Chinese tourists.  Our guide was flabbergasted.  He said the most people he'd ever seen out there at one time was about twenty, and here we were surrounded by hundreds.  I had always thought that Americans were the loudest people in the world, but I think the Chinese may have proved that one wrong for me.  Our guide was nervous that the wooden walkways that cross over the crumbling stones of the temple would collapse under the weight of so many people, so we quickly passed through the walkways and made our way to the exit.  So much for our big archaeological adventure!  I guess it ended up being a cultural experience of another sort.  We did snap a few pictures of the temple while we had it to ourselves, along with a couple others that show the Chinese tourist crowds that arrived on multiple tour buses.
After Bang Melea we spent the rest of the day touring four other temples—Preah Ko (built in the 9th century), Bakong (also built in the 9th century), Bantey Srei (built in the 10th century), and Bantey Samre (built in the 12th century).  I think the highlights for us both were Bantey Srei, built with pink sandstone that was intricately carved, and Bantey Samre, which was one of the most intact temples that we visited, so you could really get a sense of its size and scale.
We rested the next day and looked forward to Anne's evening arrival.  After a terrifying drive on a mini-bus from Phnom Penh, Anne arrived looking a little harried, so we headed out to relax over a nice dinner.  We had fun chatting about our various experiences in Cambodia so far and planned out a big day of sightseeing around Angkor for the following day, with our fingers crossed that the torrential downpour passing through, courtesy of Tropical Storm Gaemi, would have moved on by the morning.  Fortunately we woke up to find that it had.
We started the day off by passing through the ancient city walls that enclosed the royal Khmer city of Angkor Thom.  Stone carvings line the bridge that spans the moat around the city—with one side lined with gods and the other with demons.
Once inside the walls, we first visited Bayon, built in the 12th century and marked by giant smiling stone faces carved into its spires.
From there we passed quickly through Baphuon (built in the 11th century), the Terrace of the Leper King (built in the 12th century), and the Elephant Terrace and headed on to Preah Khan (also built in the 12th century), which was one of my favorites.  Most of the Angkor temples were Hindu, but Preah Khan was a Buddhist temple, with long, low-ceilinged hallways that approach the center from all four compass directions.  The ceiling gets lower and lower as you pass through so that you are forced to bow your head towards the Buddha (now missing) that was originally placed where the four hallways intersect.  Although partially rebuilt, the temple is also overgrown with huge trees, and it was quiet and serene, so we lingered for a little while.
After a break for lunch, we visited Pre Rup, a royal crematorium built in the 10th century.  We climbed to the top of its towers for some amazing views.  Cambodia has some of the most beautiful clouds I've ever seen, and our guide said that when he was a kid, he and his friends loved to look for animal shapes in the clouds.  Just like we used to do!
Then it was on to Ta Prohm, built in the 12th century and made famous more recently by Tomb Raider.  It's a beautiful, crumbling structure in the jungle, and it's gradually being retaken by nature.  It was easy to see why it would be an appealing movie location.
And then—finally!—we finished our grand tour with a visit to Angkor Wat, built in the 12th century and still the largest religious structure in the world.  The scale of the building is stunning, starting with its enormous moat that's over a mile long on each side.  After crossing the bridge over the moat and then passing through the outer buildings, it was exciting to finally see Angkor Wat in person after seeing it in so many pictures.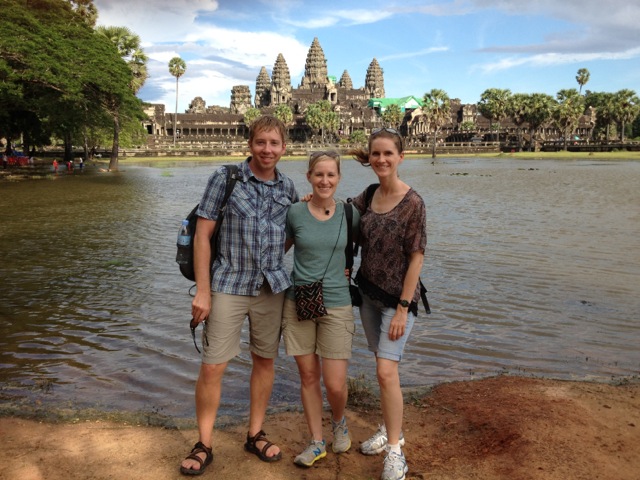 Its five spires are currently being renovated, so unfortunately we couldn't climb to the top, but we walked the vast hallways, and our guide explained the wall carvings lining them that re-tell the Hindu epics.
We stayed on in the courtyard of the inner temple for sunset and then wandered back outside just in time to catch a last picture of the five spires reflected in one of the temple's ponds.