After a few days in HCMC, Shelley and I were ready to slow down a bit.  There's a lot of motorbike traffic in HCMC and it's a city very much on the go.  So, when we arrived in the sleepy little town of Hoi An, located in central Vietnam just south of Da Nang, the beauty and slower pace of the place was very welcome.
Although slow and peaceful now, Hoi An used to be a bustling, international trading port from the 15th to 19th centuries.  The silting of its harbor and the rise of Da Nang and other coastal trading ports in Vietnam ultimately caused the trading there to stop.  However, the town itself has been preserved just as it was, garnering UNESCO World Heritage Site status.  Today Hoi An is a quaint little town of small alleyways lined with homes, shops and temples that sits right along the Thu Bon river.  And it couldn't be a more beautiful place.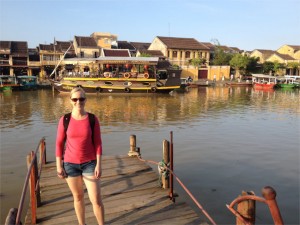 Most of the alleys in Hoi An are closed to motor traffic, which is great for biking around the town.  The little hotel we stayed in had bikes you could borrow right out front and we took advantage of them almost every day we were there.
One day we even rode the bikes to the beach, just a 20 minute ride away.  It was by far the most pristine beach we'd been to thus far, perfect for swimming and lounging.  Some local hawkers had set up shop – and some comfy, red chairs for folks to sit on – under the palm trees with cold drinks and lots of their trinkets for sale.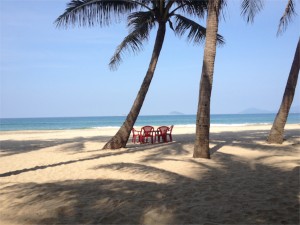 We bought some chop sticks from one of the hawkers on the beach.  What a bargain!  Actually, we got taken for a ride.  But, she was very friendly and we really enjoyed her approach and sales style.  We hope to use these when we get back and start making more Vietnamese food at home.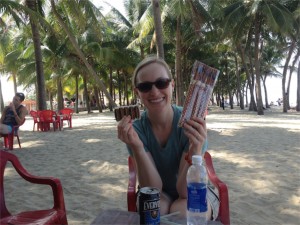 Speaking of Vietnamese food, the food here has been the best food we've had on the trip.  Especially in Hoi An.  Everything we tasted here was delicious – fresh, herby and wonderful.
When we first arrived in Hoi An, Shelley and I took another play out of the Anthony Bourdain playbook and found the little Bahn Mi shop that he visited when he was in Hoi An on his show.
The woman who owns the place makes a really mean sandwich and we chatted with her for a minute about how we found her shop and how she makes her food.  She prepares everything at home and brings it to the shop to be put together.  I wish I had gotten a video of her making the sandwiches.  She was so fast!   And she had to be; there was a line out front day and night.
The article I had found online that pointed out her shop was posted on the glass of her deli cart, but after speaking with her I don't think she realizes how famous Anthony  Bourdain is and how many people have seen her Bahn Mi sandwiches on TV.  Pretty amazing.