After catching up on some errands over the weekend – Shelley needed to have some pages added to her passport, all of our clothes needed washing, and we were running low on toothpaste, shampoo and such – we took some time on Monday to see the sights in Singapore.
Since we had enjoyed hiking up Mount Misen so much back when we were in Japan, we decided to try and duplicate that adventure by taking the Singapore Cable Car to the top of Mt. Faber to see if we could get a good view of Singapore and the surrounding area.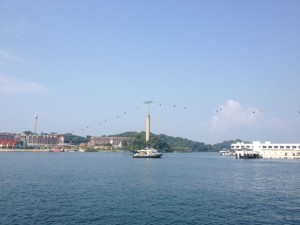 The Singapore Cable Car connects Santosa with the island of Singapore.  Santosa (you can see a little bit of it on the left in the above picture) is a small, resort island that has an amusement park/resort feel to it.  There are hotels and casinos on Santosa, as well as a nice, little beach.  We spent some time on that beach with Anna, Tom and some of their friends back on Saturday.  As luck would have it, I was able to get in on a pick up ultimate game there, which was pretty great.  I kept seeing all these people with discs walking to the other end of the beach, and then I saw cones, and then angels started singing…  But, I digress.  Today we would be taking the cable car away from Santosa towards Mt. Faber.
When we arrived at the cable car, we were somewhat surprised to discover that it had been taken over by Angry Birds.  Yes, the iPhone kind.  Granted, we'd seen Angry Birds everywhere we've been in SE Asia – t-shirts, stuffed animals, you name it.  Heck, Cheng and Negina were even able to pick us up an Angry Birds towel in the Cameron Highlands for our towel-less apartment.  But, Angry Birds themed cable cars?  Seemed like a bit of a stretch.  Regardless, we wanted to ride the cable cars, so we found the ticket counter and got in line.
When we got to the front of the line to purchase our tickets, we quickly realized that Angry Birds come at a premium!  We decided to forego the deluxe package – Angry Birds themed cable car w/ plush toy companion, photo with Angry Birds, etc. – and stick with the basic round trip ticket.  It was still going to cost us an arm and a leg!  But, this was going to be cool like Japan, right?  On with the show!
Some perks came with every Angry Birds Cable Car ticket.  Like…
These sweet Angry Birds face masks!!!  Also included in your cable car trip, complementary Angry Birds theme music played for the duration of your ride.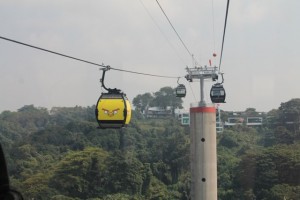 With Angry Birds music still in our heads (can you hear it???), we made it to the top of Mt. Faber, where, in the small cable car boarding area, we found Angry Bird carnie games for the kids, which included a super-sized sling shot with plush Angry Bird projectiles that could be used to take down milk bottles, and, of course, little green pigs.  Shelley even got to meet all the Angry Birds in person.  Ha!  We don't need no deluxe package!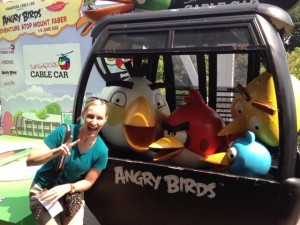 All this Angry Birds stuff was good fun until we exited the cable car boarding area and were deposited into The Jewell Box, a swanky-looking restaurant and gift shop that overlooked the water toward Santosa.  "Wait, this can't be it," we thought.  Where was our highly anticipated, awesome view of Singapore?  We walked around the restaurant desperately looking for Singapore, but there was no readily apparent path to an exit, much less to a better view of the city.  We had, quite literally, been taken for a ride.
With our dreams vanquished, we boarded the cable cars for the return trip and another ear-full of Angry Birds theme music, which proceeded to turn us into a couple of Angry Tourists.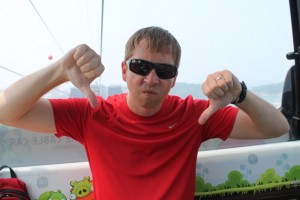 But we shook it off, and headed back into downtown Singapore to see some of the sights.  We made a stop at the Asian Civilizations Museum, ate some yummy food, and ultimately ended up at Marina Bay Sands, a huge hotel, casino and shopping complex right on the Singapore waterfront.  Out front, we finally got that view of Singapore we had been looking for.