Before we arrived in Australia, when we were planning how we'd spend our three weeks there, we thought a good way to see a little more of such a huge country would be to rent a car and drive from Melbourne to Sydney and then fly on from there to the Whitsunday Islands in Queensland, instead of just flying the whole way.  In retrospect, after we spent most of our time in Melbourne getting over being sick, the drive to Sydney wasn't the best idea, but, hey, it stuck.  And since during that first week we weren't able to make a day trip from Melbourne to drive the Great Ocean Road, we decided to use one of the three days we'd allocated to our drive to Sydney and drive the wrong way–heading west–to see the Great Ocean Road before we turned back around and carried on towards Sydney.
On our drive out to the coast, we zigzagged through small towns and farmland that looked so much like the U.S. I think I could easily have forgotten where we were, except for when we made a wrong turn and John turned around in someone's driveway and then following years of conditioning pulled back out on the road on the right side, and I shouted out, "Left side!  Left side!"
Our first stop along the coast was at Port Campbell, a tiny, quaint town where we had some lunch before officially joining up with the Great Ocean Road.  From there we headed on to Twelve Apostles National Park to see the beautiful crumbling limestone pillars and cliffs.  It was really pretty out, and we tried to capture it with pictures, but I don't think they quite do it justice.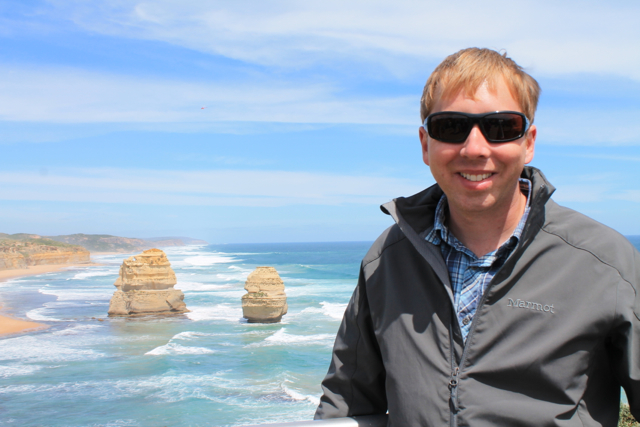 On our way back to the parking lot, we saw this sign.  Luckily we didn't see any snakes!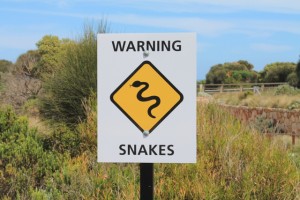 We continued heading east back towards Melbourne and then turned off onto the road leading out to the lighthouse at Cape Otway.  I'd read that we had a good chance of seeing koalas there, and sure enough, as we rounded a bend, I saw some folks stopped, looking up into the trees, and then I spotted the koalas.  I'm not quite sure why I was so excited to see koalas over every other animal, but I screamed out, "Stop the car!  Stop the car!  Yes!  Yes!  Yes!"  John pulled over and parked and we hopped out to watch the koalas lying around on tree branches and chewing on eucalyptus leaves.  You can see in the picture below just how jazzed I was about seeing koalas.  As we carried on down the road we happened upon a kangaroo.  I couldn't believe our luck.  It paused and posed for us and we took some pictures.
The rest of our drive back to Melbourne was pretty uneventful, although it got a little hairy for John after the sun went down and we continued speeding over miles and miles of the very twisty, turny, and hilly Great Ocean Road with just a low metal barrier separating us from barreling over a cliff into the ocean.  We finally made it back to Melbourne close to midnight and hit the sack for an early start for Sydney the next morning.
The drive to Sydney was interesting, taking us through a number of seaside towns that we expected would remind us of California but instead looked a lot more like New England.  John powered through long hours of driving–13 hours over 2 days–with occasional stops in little towns for seafood and short walks to explore.  We crashed in Sydney for a night and then flew up to the warm weather and sunshine in the Whitsunday Islands for this view:
Until we saw New Zealand, I think we'd definitely say the Whitsundays were the most beautiful place we'd been, and we loved having the chance to spend some time on the water.  We spent one day on a catamaran cruise that took us to uninhabited Whitehaven Beach for some swimming, walking, and lounging, and another day we headed out to the Great Barrier Reef on a snorkeling trip.  The water wasn't too cold, but to protect ourselves from the risk of stings by box jellyfish, we wore full "stinger suits" that for me included even a hood and gloves.  The snorkeling was really beautiful, even just seeing the coral itself.  I didn't know that the color, size, and shape of coral could vary so much.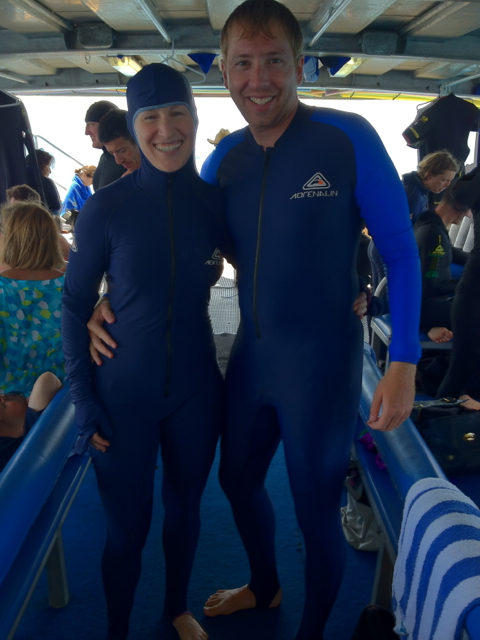 We spent our nights back on Hamilton Island enjoying watching the full moon and then making sure our balcony door was securely closed before bed.  Apparently people have been feeding the cockatoos, which has made them fearless about searching out food.  They'll land on the balcony railing and peer inside to see if anyone is around.  If not, they'll fly on in, help themselves to anything they can find to eat, and generally make a mess of the place.  I guess they're a little like rodents, but a lot more beautiful, and they enjoy the sunset, too!