To begin our tour of India's capital city, Shelley, Anne, John (the 1st) and I took a bicycle rickshaw ride through the streets of "Old Delhi," an area within the city that was once the capital of the Mughal Dynasty, which existed prior to the British Raj.  This area of New Delhi remains a vibrant cultural center for the city and maintains a very dense population.
Touring Old Delhi is an experience not easily described in words.  I'll let these pictures and videos speak for themselves.
After our morning in Old Delhi, we visited the Mahatma Gandhi memorial.  The memorial consists of a large, black marble platform that marks the location of Mahatma Gandhi's cremation.  While we were there, there was a continuous line of visitors waiting to look upon the memorial and we saw many school groups, like the one seen in this picture.  When entering the memorial, we all removed our shoes as a sign of respect.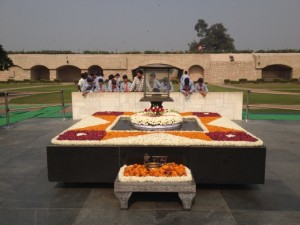 Before travelling on to Agra, we visited Humayun's Tomb, a site that gained UNESCO World Heritage Site status in 1993.  This tomb, commissioned in 1562 for Humayun, the second emperor of the Mughal Dynasty, is historically important because it is the first tomb of its kind on the Indian subcontinent.  Shah Jahan, Humayun's descendant and fifth emperor of the Mughal Dynasty, would go on to build the Taj Mahal and many other grand buildings, each of which owe many aspects of their design to this very first Indian garden-tomb.