During our week and a half in Chiang Mai, we've visited a number of Buddhist temples.  We've tried to distill down the number of pictures so that we just post the highlights, since otherwise there would be a lot of pictures.  Here are some shots of Wat Chedi Luang, which dates to the 1300s:
Sitting John and sitting Buddha at Wat Chedi Luang: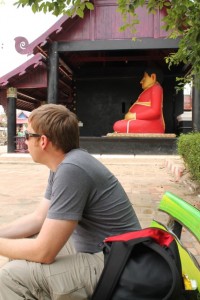 At one of the temples, Wat Suan Dok, we sat down for a "monk chat" with a Burmese monk who is studying Buddhism and English at a university here.  It was really fun and interesting to talk with him, and we got to ask him a lot of questions about Buddhist beliefs and what it involves to be a monk.  We also answered his questions about life in the US.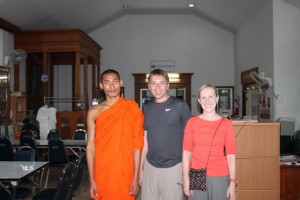 Here are a few other shots of Wat Suan Dok–the one on the right is of a cemetery on the temple grounds.
Towards the end of the week we visited Wat Phrathat Doi Suthep, which is considered the most important temple in Chiang Mai.  It was built on a mountaintop overlooking the city and is believed to house a Buddha relic.  Legend has it that in the 1300s, the king of what is now northern Thailand placed the Buddha relic on the back of a white elephant and then released the elephant into the jungle.  The elephant climbed up to the top of Doi Suthep mountain, trumpeted three times, and then died on the site.  This was interpreted to be a sign, so the king ordered that a temple be built there to house the Buddha relic.
And finally, on our second to last day here, we visited Wat Pra Singh, which also houses a large monastery:
And yes, you would be correct if you wondered if we're wearing the same thing every day–we tried to pack light!