I'm prone to disaster when it comes to trying my hand at any kind of Asian cooking.  All of my attempts at home have fallen flat, in some cases being completely inedible.  Here's a lovely picture of my December 2009 effort to make a chicken soup with soba noodles.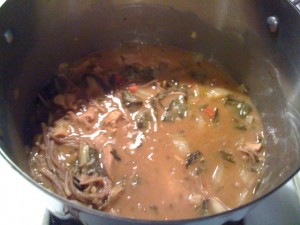 Later attempts maybe weren't quite as inedible, but they usually turned out mushy, watery, and bland.  I just couldn't seem to get it right.  So, since I love cooking and love Thai food, I was excited for us to take a Thai cooking class so I could get a handle on things and hopefully have some practice at making yummy recipes that we can recreate at home.
Our cooking class started with a trip to a local market, where our fantastic teacher Cherry took us on a tour of the stalls and pointed out different varieties of Thai produce and condiments.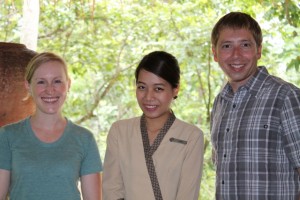 After picking up some fresh ingredients, we headed back to the school for a demonstration of our first dish, khao soi, a curried noodle soup that is Chiang Mai's most popular street food.  The chef showed us how to boil some of the egg noodles and fry others, and then serve them in a broth of coconut milk, red chile paste, and vegetable stock, topped off with chopped shallot, salted cabbage, and fresh lime juice.  The chef's version tasted really delicious.  Then it was time for us to replicate what we'd just seen.  Ours turned out alright, not quite as good as the chef's. Oh well.
The chef demonstrated–and then we made–three more traditional northern Thai dishes–curried fish wrapped in a banana leaf and grilled, stir-fried spicy minced pork salad, and a spicy shrimp tomato dip.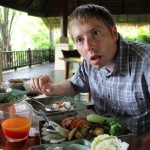 And they were definitely spicy!  We sat down to eat what we'd made and proceeded to blow our noses continuously throughout the meal.  You can see from John's face here how we were suffering from the spice.  Still, the food tasted good–I think our fish was equally good and my shrimp tomato dip was better than John's, but his minced pork salad was better than mine.  All in all it was a huge step forward for me in Asian cooking, and I'm hoping I'll be able to find all of the same ingredients back home in Austin and recreate the dishes we learned.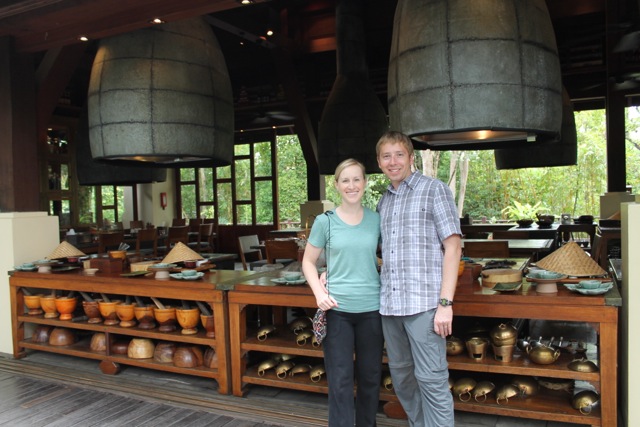 After we finished eating we had a vegetable carving lesson–it's an art form here and an important part of culinary training.    Although the chef did chuckle a little at our clumsy attempts, we focused as best we could to produce tomato roses and curled scallion ribbons.  Our red pepper flowers aren't in the picture.  Let us know in the comments section which final carvings you think look better and we'll reveal whose they are!