As John mentioned in his previous post, Shanghai is a huge, modern city that offered a western-style familiarity that felt very comforting after our adventures in Datong.  We loved the fresh juice and fresh salads at Wagas (salad can be a little risky to eat in most of the places we've been visiting, and we do miss it dearly), and I'll confess that I buckled and had Starbucks coffee and muffins during each of our three mornings in Shanghai (it was conveniently located at the base of our hotel building, after all).  Since Shanghai lacks the historical sights that Beijing has, we took a pretty relaxed approach to our days there and then spent our evenings wandering Nanjing Road, the pedestrian shopping street running right past our hotel and down to The Bund.  Here are some photo highlights from our time in Shanghai…
We toured the Shanghai Museum to view exhibits on Chinese furniture, jade, painting, and calligraphy.  The museum is designed in the shape of an ancient Chinese bronze cooking vessel–looks like you could just pick it up!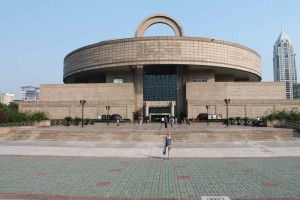 We cooled off at a Haagen Dazs cafe.  As you can see, John was pretty excited about his first sit-down-and-place-your-order Haagen Dazs experience.  Sadly, they did not have chocolate midnight cookies, so we opted for a sundae that turned out to involve a rather peculiar mix of flavors.
We spent an afternoon wandering the alleyways of Tianzifang, in the former French Concession.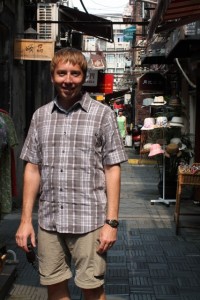 We had a delicious pizza lunch at a place called New York Pizza…yum!  Like a taste of home, but with Chinese cheese.
We watched the city light up for its nightly light show while walking along The Bund at sunset.
We sampled Shanghai's famous soup dumplings at Jia Jia.
In a moment that reminded me of Us Weekly's "Stars!  They're Just Like Us!" we watched Chinese women waiting for the subway and thought to ourselves, "Chinese People!  They're Just Like Us!"  They're on their smart phones all the time.  We watched Chinese soap operas over their shoulders during the ride.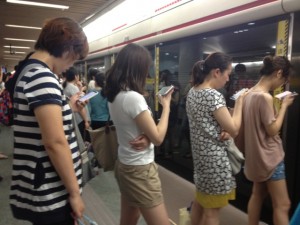 Now on to Hong Kong, where we landed just as a signal 8 typhoon was blowing in!