After some wrangling at the Datong airport (ask us about it sometime…), we boarded our flight back to Beijing to continue our journey through China.  From Beijing, we caught our first bullet train, bound for Shanghai.  I have to say, travelling by train is much more comfortable than travelling by air.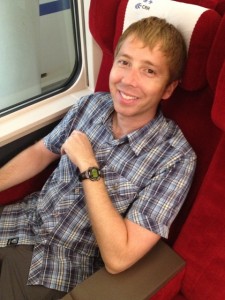 Neither of us slept much in Datong (the bed in our hotel was like a rock!), so we both crashed out for a while on the train.  And, we both independently decided to take blackmail photos of the other one sleeping.
Shanghai was the first leg of our journey where my Starwood Points came in handy.  To defer the costs of expensive hotels in Shanghai, we booked 3 free, reward nights at the Royal Meridien, right on the pedestrian street in the heart of the city.  The staff there didn't quite know what to make of us, showing up to their fancy hotel fresh off the subway, sweaty with backpacks on.  But, in true Starwood style, they were welcoming and even gave us an upgrade to a beautiful room with a river view.  Nice!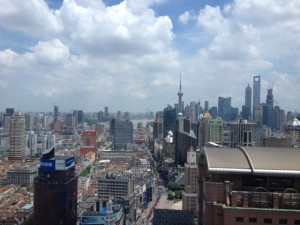 BTW – Shelley and I have had the chance to compare hotel points on this trip, and all rewards programs are not created equal.  Starwood, by far, gives you the most bang for your buck when it comes to hotel rewards and we are always treated incredibly well at their properties.  Starwood customers for life.
That night, we went out to a restaurant off the pedestrian street that served salad.  It was awesome, as it felt like we hadn't eaten anything fresh, green and leafy for weeks.  And after a 16 hour day of travelling from Datong to Shanghai, that's pretty much all the energy we had left.  But, we were back in civilization.