There aren't many cities in the world that could lure me away from my beloved Austin, TX.  Sydney, however, is one.  When our short time in Sydney was over, I just didn't want to leave!
Everything about Sydney was compelling me to stay.  It's the perfect size – big enough to have everything you'd want in a city, yet small enough so as not to be overwhelming. From downtown, you're a 40 minute bus ride or a fast ferry away from two of the most amazing beaches I've ever seen, Bondi and Manly.  The beauty of the Sydney Harbor and skyline is stunning.  And everyone we met there was just so friendly!
Although we could only stay in Sydney for a few days, we did manage to pack in quite a bit of fun while we were there.
Most importantly,  Shelley and I learned how to surf!  Surfing is something I've always wanted to learn how to do.  So much so that in an ill-fated, self-taught attempt several years ago, I was thrown over the front of a short board and broke my collar bone on the bottom of the ocean.  But this time was different.  This time I had a renowned surfing beach (Bondi), a big, long board, and professional instruction.
Shelley was a little worried at first.  The board was a bit big for her and she had a hard time carrying it and getting it into the water.  But, she did awesome and the camera loved her!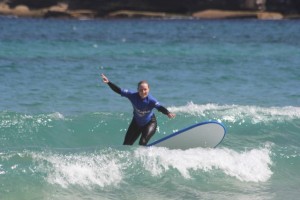 The camera didn't love me as much and didn't catch me standing up on any waves.  But, I'm proud to say that I did get up on a few and I had the time of my life.  Surfing Bondi is definitely one of our most favorite memories from the trip.
But, don't let our beautiful surfing day fool you.  It was Christmas time down under and Sydney's Christmas Tree was shining bright!  It definitely felt a little strange to experience Christmas in the summertime on the other side of the world!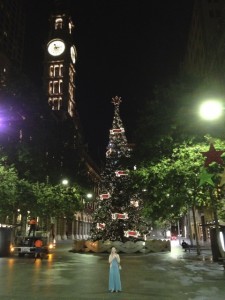 We made a stop at the Sydney Opera House.  We got lucky and were able get in on the last tour of the day when we were there.  It really is a beautiful building, inside and out.
We also had fun climbing to the top of the Sydney Harbor Bridge while we learned about its history and construction.  The experience gives you a real bird's eye view of Sydney and the surrounding area.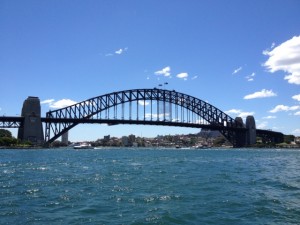 Shelley and I were definitely sad to leave Sydney behind.  Although our pocketbooks were not!  Australia is by far the most expensive place we've visited on our trip.  Thank goodness for Starwood Points!
Goodbye, Sydney.  I hope we meet again!